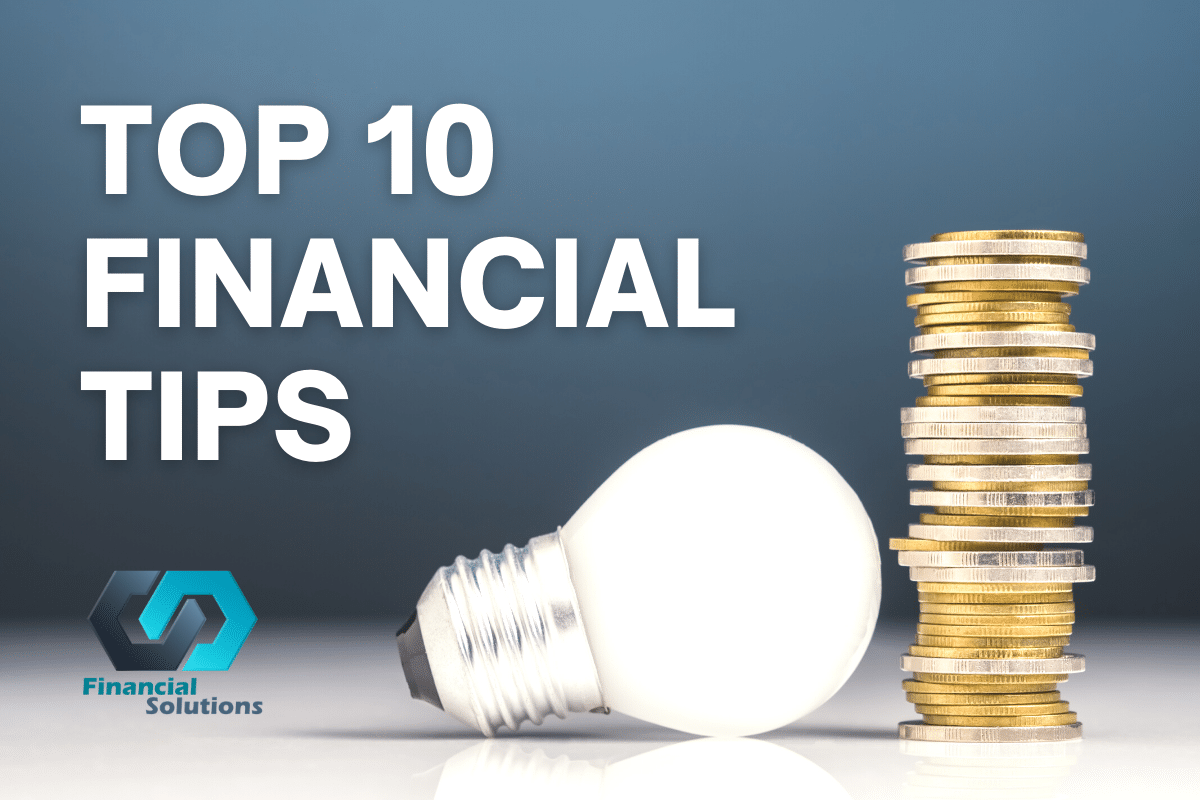 Making serious lifestyle changes to ensure a more financially secure future might sound intimidating, but there are plenty of tips and tricks to help you get started. Below are just our top 10 favorite financial tips here at Financial Solutions Inc.!
Tip #1: Keep Track of Your Credit Score
If you want to live more responsibility, you have to brave the reality of your credit score and understand that no matter how low it might be, improvement is always possible. Paying bills on time, using the "snowball" method to pay off debts, and keeping your credit usage below 30% are all great ways to do so. But no matter what, financial success always starts with awareness.
Tip #2: Don't Sell Yourself Short
If you work hard at your job, know your value. If you know you are not appreciated and compensated the way you should be, start really considering what is keeping you where you are now. Perhaps there is a way to negotiate a better salary or find a better job altogether. Once you have the confidence to reach for what you deserve, you'll be amazed at how quickly things begin to fall into place in other areas of your life, including your financial security.
Tip #3: Be A Wise Spender
One of the simplest financial tips that exist is to just be smarter with your money, but for just about everyone that is easier said than done. So, try instead to just be more conscious while you're spending money. Consider each time if the purchase is a genuine necessity or something that will merely satisfy a need for instant gratification. For instance, it is always wise to spend money on bills and debts, but not so much to each lunch out everyday because it's easier than packing a lunch.
Tip #4: Make A Budget & Stick To It
Want to really see a change in the way you handle money fast? Create or rework your budget. Make sure to include all the money you have coming in, what your expenses are, due dates for bills, payment dates, spontaneous purchases, and any other information you feel is relevant to keeping you financially informed. The more detailed your budget, the more control you'll have over your finances.
Tip #5: Learn What Works For You
Financial literacy may be achievable for all, but that doesn't mean that every person's situation is the same. If you want to save more money and have a more secure future, you first have to really spend some time learning what works for you. Maybe you need to adopt a 24-hour rule to curb your spending. Or perhaps all you need is an app to help you stay organized. Whatever it is, find it and make it work for you!
Tip #6: Set Financial Goals
It's important to dream big when you're thinking about your future, however, it's just as important to be realistic. If you really want to be a millionaire by the time you reach a certain age, you need to put in the work and create a precise timeline of attainable goals to guide you and give it everything you've got. By all means, start small. Don't be afraid to celebrate every new milestone because, the more positive you are about building your new habits, the more successful you'll be!
Tip #7: Find The Right Support
Do you feel discouraged every time you try to get your finances in order? You just might not have the right support. Whether you're a student in need of financial aid, a carefree spender in need of an accountability partner, or a victim of a timeshare presentation, there is always someone out there who can help you. Just take a look at our seasoned financial advisors at Financial Solutions Inc.!
Tip #8: Shop Smarter
With discount and savings apps available right from your phone, there's simply no excuse not to shop smarter nowadays. You can get a coupon code, or free trail, for just about anything – including necessities like groceries! You just have to invest the time upfront to search for the best deals on what you need and you won't believe how much you can save.
Tip #9: Pay Attention To Your Debts
If you have a "get it and forget it" mindset when it comes to debt, you're only doing yourself the disservice. No matter what, debt will always come back to haunt you, which is why your only hope at true financial freedom is to stay on top of your debt at all times. Pay off what you can, as quickly as you can, and the rest will fall into place.
Tip #10: Plan For Your Future
Have the same "get it and forget" attitude about your own income as well? If so, it's definitely a great time for a change. After all, your money has the potential to appreciate in value if you just put in in the right places. That means, if you really want to get a plan together for your future, your best bet is to learn how to start investing!
Looking for more immediate financial freedom? Try following these top 10 financial tips and feel free to consult our financial relief specialists at Financial Solutions Inc. anytime!